UNMANNED SOLUTION, a South-Korean company based in Seoul, is dedicated to the development of autonomous vehicles of all kinds. They develop numerous different projects and activities, such as driverless shuttles, autonomous agricultural equipment, robots, and educational platforms.
The First Agricultural Tractor Integrating an Auto Guidance System in South Korea
Among these projects is a self-driving tractor. UNMANNED SOLUTION is a pioneer in the modernization of agricultural equipment in South Korea. The company developed an Auto-Guidance System and a self-driving algorithm suitable for the Korean agricultural market and environment.
The Auto Guidance System is a system composed of several components: a GPS/GNSS module providing highly precise positioning, an auto steering module for steering control, and a control console for path creation and tasks settings. The system provides and controls position, attitude and speed data, which are critical information for the tractor to follow the desired path.
Miniature RTK GNSS/INS Solution for Unmanned Navigation
SBG Systems' Ellipse-D Inertial Navigation System is integrated into the GPS/GNSS or navigation module as a positioning unit. The inertial sensor is also needed to navigate to the field as well as for a potential wooded area leading to the field.
Its role in the GPS Module is, in addition to delivering positioning data, to provide roll/pitch, and heading. That is to say, the tractor's 3D position in order to monitor and adjust it if needed.
The Ellipse-D sensor is a dual-antenna RTK GNSS/INS that perfectly meets the application's accuracy needs, especially in terms of heading. Such applications involving slow vehicles require a highly precise heading because of its low dynamics. A dual-antenna inertial system delivers more accurate heading than a single antenna solution, even in a stationary position and is therefore recommended for autonomous vehicles with low dynamics.
UNMANNED SOLUTION's self-driving tractor also integrates a low-level controller, a user interface module, a vehicle control module, and a path-generation and following system.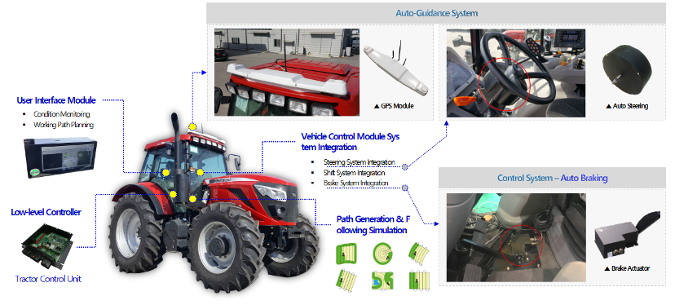 A Wide Range of Self-Driving Vehicles for Different Kinds of Applications
Continuing with agricultural equipment, UNMANNED SOLUTION is also developing a driverless pesticide applicator (still under development) designed to fit atypical environments. It is also equipped with an intelligent and automatic pesticide control.
However, the company does not limit its offer to agricultural equipment but to all kinds of autonomous platforms:
The WITH:US autonomous shuttle. It can operate as an on-demand public transportation service in smart cities. It embeds Velodyne LiDARs, SBG Systems RTK INS/GNSS, several cameras and controllers, enabling the shuttle to analyze its surroundings and determinate the best behavior to adopt. The shuttle serves for short-distance trips such as campuses, industrial, airport, and downtown areas.
The WITH:US LOGI autonomous logistics robot used for short-distance deliveries both indoors and outdoors. In addition to being able to access areas where an automobile can't reach, it also allows customers to choose their preferred date, time and location for delivery. It integrates LiDARs, GPS/GNSS, INS, cameras and controllers like the WITH US Shuttle.
The WITH:US CARO. This autonomous vehicle has been designed for long-distance and large deliveries, as it can load up to 1,500kg and has a large loading space. It is equipped with the same components as the autonomous shuttle and logistics robot.
The WITH:US SECURITY robot. As its name implies, it is a self-driving security robot used in short-distance sections of different kinds of environments. It is also equipped with a LiDAR, INS/GNSS, Cameras etc. but integrates an obstacle recognition technology for outdoors applications. It can serve as a patrolling robot.
All UNMANNED SOLUTION's platforms are equipped with either SBG Systems Ellipse or Ekinox grade RTK GNSS/INS, depending on the application's performance and accuracy needs.
All photo credits: UNMANNED SOLUTION
About the Ellipse2-D solution
The Ellipse2-D is an inertial navigation system integrating a dual antenna and dual frequency RTK GNSS that is compatible with our Post-Processing software Qinertia. As the whole Ellipse Series product line has recently been renewed, this solution is now replaced by the Ellipse-D 3rd Generation. This new INS/GNSS conserves all its previous features a smaller size and weight package and embeds a powerful 64bit architecture allowing high-end filtering. Power consumption has also been reduced. Designed for automobile applications, it can fuse Odometer input with Pulse or CAN OBDII for enhanced dead-reckoning accuracy.
Ellipse-D
Dual Antenna RTK INS
0.05° Roll and Pitch (RTK)
0.2° Heading (Dual Antenna RTK GNSS)
Immune to magnetic distortions
1 cm RTK GNSS Position
Tiny OEM module available
Post-processing with Qinertia PPK Software
Full Development
More info ››